Meet Brett!

Brett has been cycling long-distance routes and gravel trails since his early teens when he biked across the U.S. with his father in 1993. He's also completed the Great Divide Mountain Bike Route, 400-miles of fat-bike/packrafting through Alaska, cycled through the Amazon across South America, and countless weekend adventures.

Originally from the midwest state of Ohio, Brett spent nearly 20 years exploring the Rocky Mountains while living in Colorado and Montana. He now enjoys exploring the trails around his home in Aberfeldy.

When he's not on the bike he's usually found in front of a computer building websites and apps (like this site!), or enjoying a delicious Scottish craft beer.

Bike(s) Salsa Fargo Ti for big adventures, Surly Long Haul Trucker for road-ish rides, Surly Bridge Club for on/off-road tours, Niner MCR for trails, and a few townie bikes.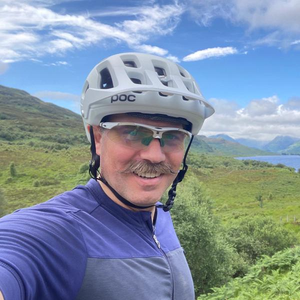 "There's an extensive variety of cycling in Perthshire, something for every level and style of rider "
Published Routes
There are no results for this search, try a different search